Your Creative Cinematic Treasure Trove
Otherworldly Sounds from Film & Game Composer Jeremiah Pena
Over 600 unique sounds from film & game composer Jeremiah Pena, brought together in a single KONTAKT instrument. Deepen your compositions with evolving pads, ambient cello, heavy basses and bowed metals.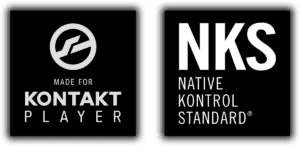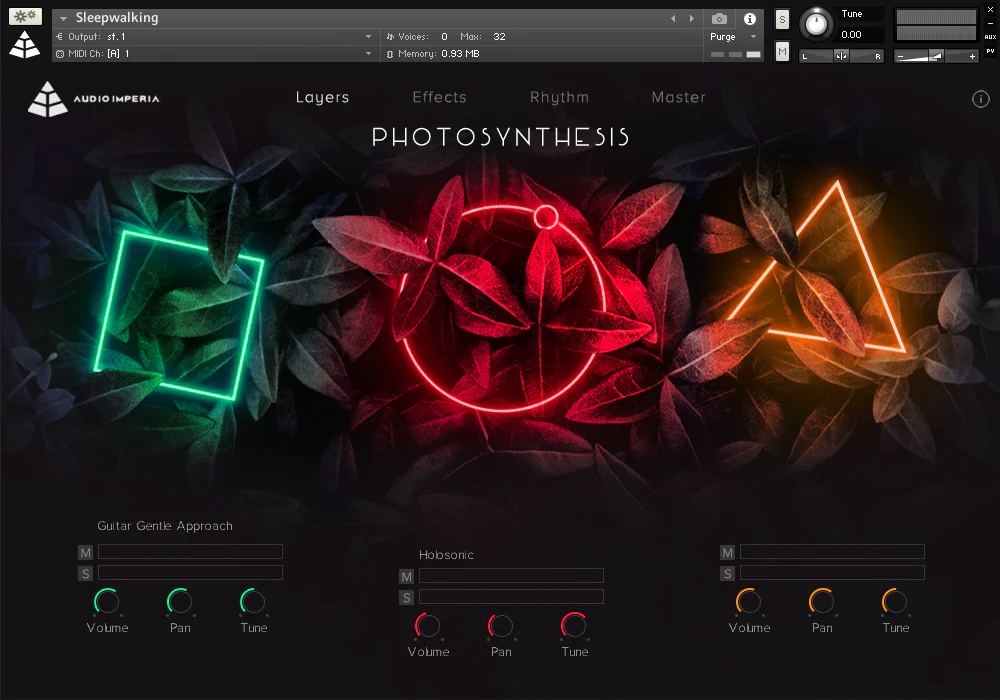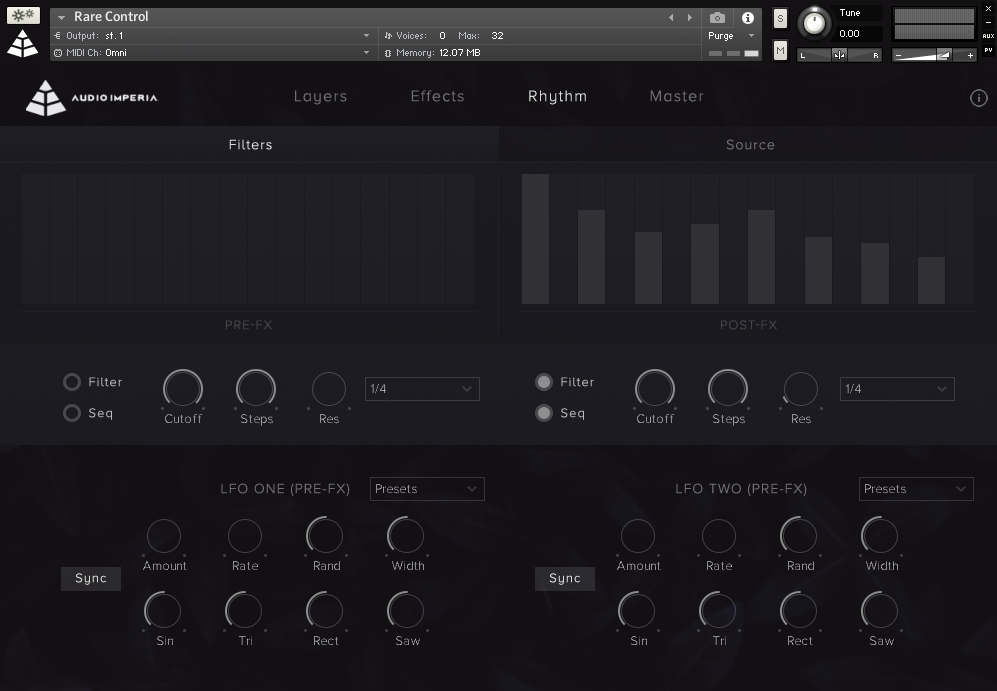 Photosynthesis offers a massive amount of otherworldly and ambient soundscapes, wavering pads and rhythmic synths, as well as creative instrument effects. All of them are spread across 9 catagories, including: Evolving Pads, Mystic Ambient Cello, Heavy Growling Basses, and Bowed Metals. Each of these offers a unique sound and makes the library perfect for cinematic film scoring.
Over 600 presets broken up into intuitive categories: Pads, Basses, Granular, Rhythmic, Soundscapes, Synths, Organic Sounds, Mystic Cello & Unprocessed Organic.
Housed in an intuitive powerful interface which makes composing inspiring. No need to spend hours tweaking controls – everything you need to get started is all housed on the front panel.
Completely playable, sampled in immense detail, offering a wide array of articulations: Everything from Gorgeous Evolving Pads and Dark Soundscapes to Bowed Metal Objects and Beautiful Shimmering Organic Pads.
KEY FEATURES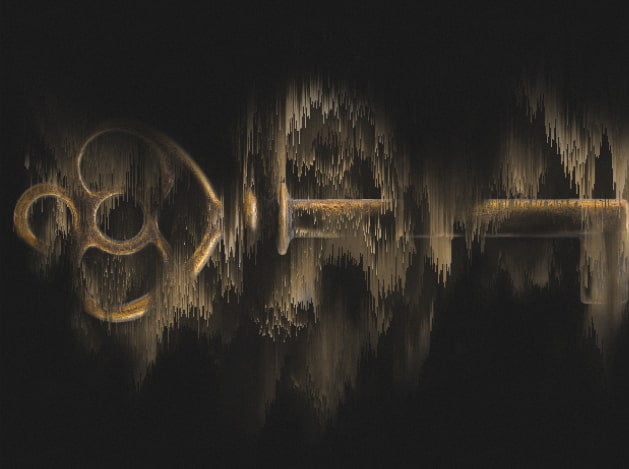 AT A GLANCE
A treasure trove of otherworldly sounds.
Made for the free Kontakt Player, Version 6.7.1 or higher.
NKS compatible.
Approximately 6.29 GB installed.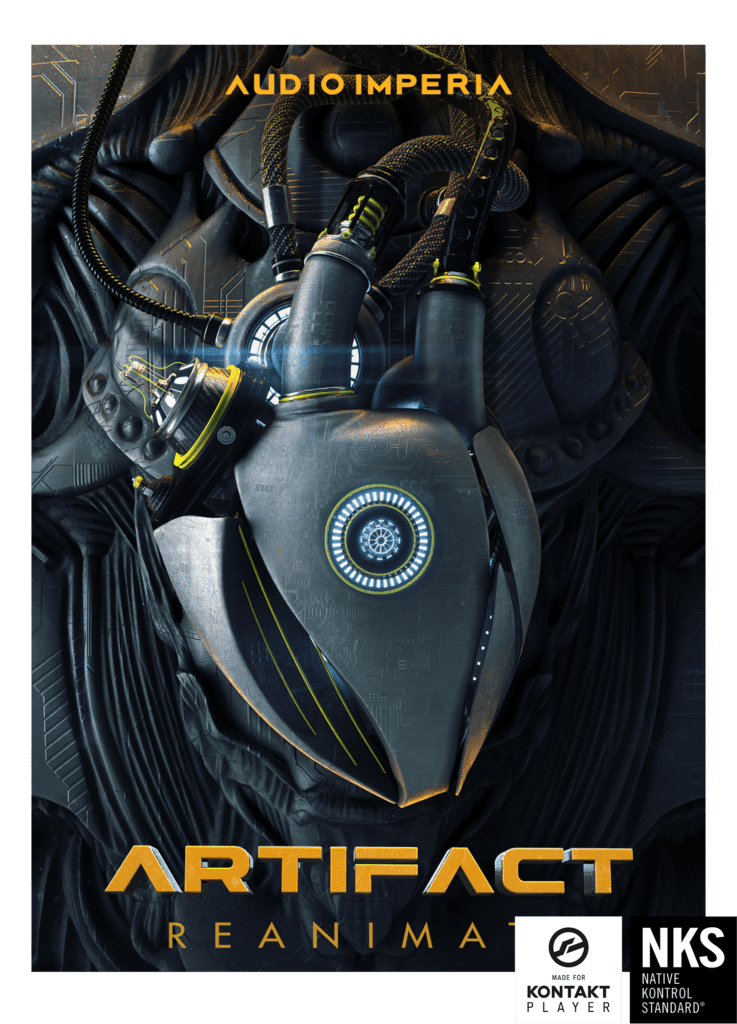 Artifact Reanimate
Modern Trailer Sound Design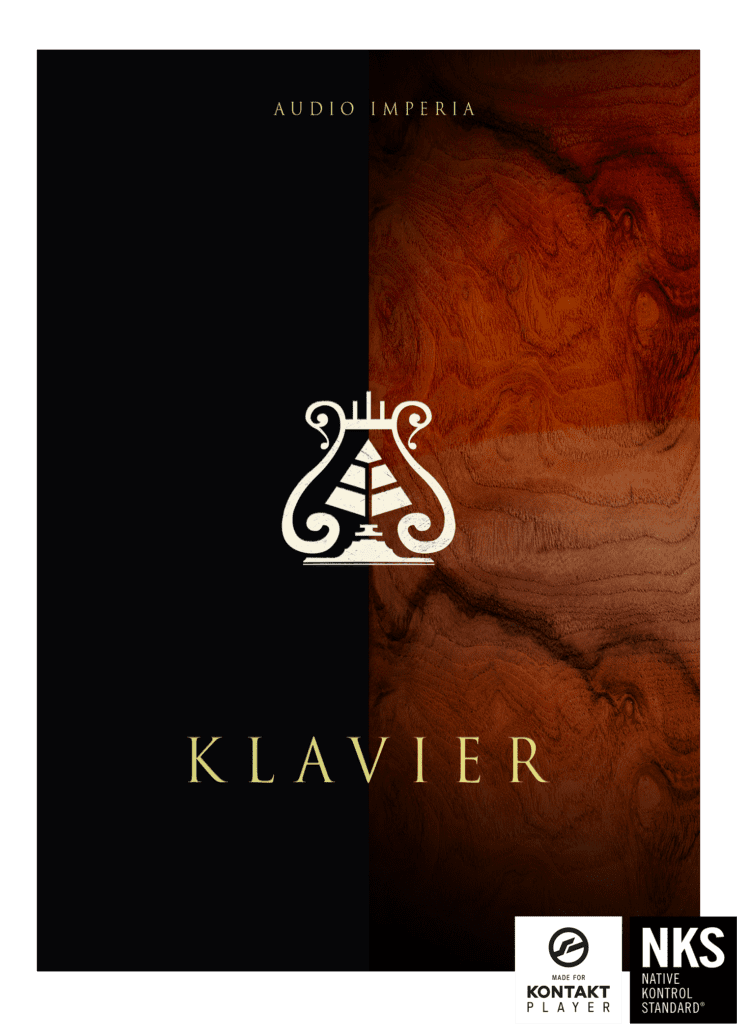 Klavier
Bespoke Hybrid Pianos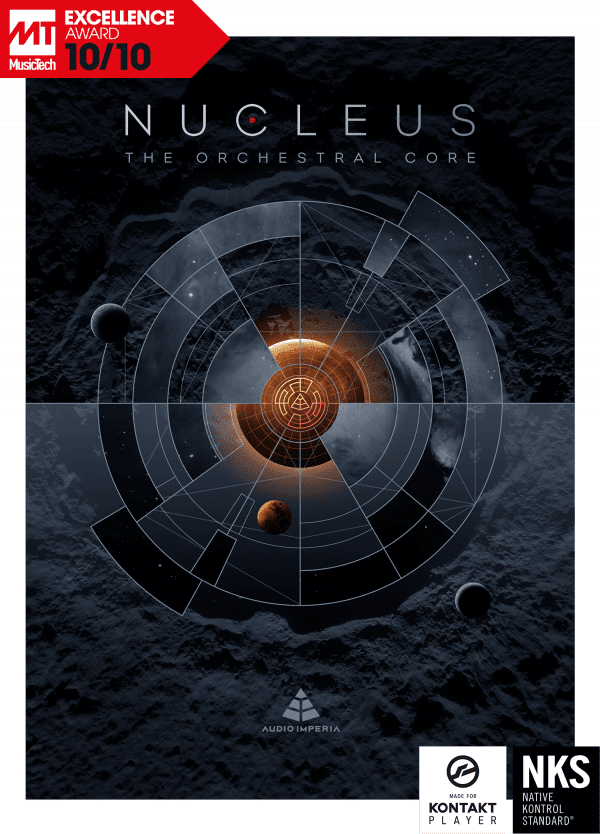 Nucleus
The Orchestral Core
The Full Details: What's Included
Organic Instruments x53
Biomechanical Engine
Acoustic Pencil Grains
Also Not a Digital Piano
Ambient Pizz Distant
Ambient Pizz Hard Attack
Ambient Pizz
Anger Guitar
Armageddon
Biologi
Biomechanical Stab RRx2
Biophysics Guitar RRx2
Bowed Destruction High
Bowed Destruction Low
Buccaneer
Clicker
Crisp Rain
Falling Stars
Fog Bank
Frictional Reverse
Frozen Ghoul
Generic Sub Hit 57
Ghoulscape
Here not There
Liquefaction
Locomotion RRx2
Machine Engine
Magneton
Not a Digital Piano
Nuclear Device
Nuclearized Staccatos RRx4
Old Design
Overload
Perfunctory
Priori Organ
Promontory Guitar
Ransom
Receding Piano
Rev Up
Reverse Locomotion RRx2
Singularity Soft
Singularity
Sleepwalking
Solaria Guitar RRx2
Subangular
Subterranean Ocean
Summit of Darkness
Sunless Guitar
Tetrahedron
Total Control
Transitory Guitar
Undersea
Underwater Piano
Unknown Quadrant
Mystic Cello Instruments (x23)
Cello Light Vibrato
Cello Artifical Harmonic Tremolo Key Vel
Cello Artifical Harmonic Tremolo Mod Xfade
Cello Artifical Harmonics Key Vel
Cello Artifical Harmonics Mod Xfade
Cello Chaos FX 1
Cello Chaos FX 2
Cello Chaos FX 3
Cello Free Bowed Sul Pont
Cello Free Bowing
Cello Harmonic Gliss A String 1
Cello Harmonic Gliss A String 2
Cello Harmonic Gliss C String
Cello Harmonic Gliss D String
Cello Harmonic Gliss G String
Cello Seagull Effect
Cello Sneaky Trill
Cello Soft Warbling
Cello Sustained Ricochets
Cello Sustained Soft Ricochets
Cello Tentative Sul Pont
Cello Tremolo Key Vel
Cello Tremolo Mod Xfade
Organic Unprocessed Instruments (x72)
Airlock Breach
A Strange World
Absolute Danger
Acoustic Guitar Bowed Sul Pont
Acoustic Guitar Bowed
Acoustic Guitar FX
Bowed Bed – Hi Menu 1
Bowed Bed – Hi Menu 2
Bowed Bed – Hi Menu 3
Bowed Bed – Lo Menu 1
Bowed Bed – Lo Menu 2
Bowed Bed – Muted Menu
Bowed Bed – Noise Menu
Bowed Bed – Tremolo Menu
Bowed Bed+Fork – Hi Menu
Bowed Bed+Fork – Lo Menu
Bowed Bed+Lid – Hi Menu
Bowed Bed+Lid – Lo Menu
Bowed Can – Hi Menu
Bowed Can – Mid Menu
Bowed Can – Noise Menu
Bowed Can+Coin – Menu
Bowed Lamp – Menu
Bowed Picture Tree – Long Menu
Bowed Picture Tree – Short Menu 1
Bowed Picture Tree – Short Menu 2
Bowed Shelf – Hi Menu 1
Bowed Shelf – Hi Menu 2
Bowed Shelf – Lo Menu
Bowed Shelf – Noise Menu
Bowed Shelf – Short Menu
Brandishment
Broken Time Travel
Dare Not Enter
Dark Creation
Dead Eyes
Electronic Evil
Empty Windmill
Everywhere a Nightmare
Fallen Trees
Ghostly Apparitions
Guitar Amped Bowed FX
Guitar Amped Bowed Tremolo Sul Pont
Guitar Amped Bowed Tremolo
Guitar Amped Bowed
Guitar Amped Pencil Harmonics RRx3
Guitar Amped Pencil Open RRx3
Guitar Amped Pencil Stopped RRx3
Guitar Amped Picked Harmonics RRx2
Guitar Amped Picked RRx3
Guitar Amped Soft RRx2
Guitar Amped Soft Tremolo
Guitar Amped Strong
Gutiar Plucked Direct In RRx2
Lurking Phantoms
Metallic Dolls
Pianolin Gliss Muted
Pianolin Gliss Soft
Pianolin Gliss
Pixels Stretching Across an Empty Gray Expanse
Poor Man's Waterphone – Long Menu 1
Poor Man's Waterphone – Long Menu 2
Poor Man's Waterphone – Short Menu
Psycho
Rusty Warehouse
Solar Wasteland
Suffocation
Toxicity
Unearthly
Violence
Wavering
Wind in my Bones
Pads Instruments (x124)
Abandoned
Above the Rain
Absorption
Aleatoric Planet
Altair
Amazement
Ambience Deluded
An Unsteady Universe
Ancient Sky
Anonymity
Apoapsis
Barren Rock
Beauty
Below Shafts of Sun
Beyond Dreams
Burning
Cello Angels
Chattering Spark
Clatterchime
Cliffside
Cloud Cling
Completely Broken
Constancy
Coral Undertow
Corrections
Data
Descendant
Detachment
Digital Circumstances
Distance
Distances Unknowable
Dreamless
Driftwood Spaces
Echoes
Electrical Shortage
Encased in Infinite Moments
Endless Totality
Enshrouded
Essence
Evening Valley
Exospherical
External Existence
Failed Realism
Falling Away
Final Sorrow
Five Thousand Years
Fjordlandia
Frozen
Galactica
Gentle Sky
Glowing Storm
Hibernation
I Remember
In a Dream
Infinite Bright
Light Scraping on Distant Shores
Light Vines
Loneliness
Longing
Lost Records
Lunar Surface
Lyra
Memory Function
Mists Enshrouding Lonely Cliffs
Motion Drifting
Mysterious Vapors
Mythic
Nonexistence
Once More
Our Last Hope
Outer Bank
Over the Trees
Overcloud
Overlit Cave
Pandora
Past Abandoned
Perception
Photon Treatment
Photoreceptors
Portal Clones
Predilections
Pretention
Prevalence
Radar Organ
Rain in an Empty Window
Real or Unreal
Reality Bending
Reality
Realization
Realms
Reflection
Refocus
Reillumination
Remembrance
Reshine
Simplicity
Slow Motion Rearview Mirror
SN 1923A
SN 1945B
SN 1950B
SN 1957D
SN 1968L
SN 1983N
Sonar Trace
Starriest
Temporal Stalactites
The Greatest Rain
The Sea
Trails
Transition
Transitory Signal
Under Lights
Undue Fog
Unmoving
Vague Flutes
Variations on Light
Veering
Visions
Wander
Waspish
Waters
We Were Gone
Where the Lost Cellos Went
Years Before
Bass Instruments (x17)
Lone Bass Pad
Bass Guitar DI Pad
Bass Guitar DI
Dark Bass
Destruction Tremolo – KeyVel
Destruction Tremolo – Mod Xfade
Digital Bass
Digital Bow – KeyVel
Digital Bow – Mod Xfade
Lone Bass Soft
Lone Bass
Magma Bow – KeyVel
Magma Bow – Mod Xfade
Ultraconic Bass
Volcanic Bass Soft Attack
Volcanic Bass
Volcanic Death Bass
Granular Movement Instruments x22
Bass Force
Extracted Burning
Granular Free Bowed Sul Pont
Granular Free Bowing
Granular FX Harmonic Gliss A String
Granular FX Harmonic Gliss C String
Granular FX Harmonic Gliss D String
Granular FX Harmonic Gliss G String
Granular Harmonic Tremolo Key Vel
Granular Harmonic Tremolo Mod Xfade
Granular Harmonics Key Vel
Granular Harmonics Mod Xfade
Granular Light Vibrato
Granular Ricochet
Granular Sneaky Trill
Granular Soft Ricochet
Granular Soft Warbling
Granular Tentative Sul Pont
Granular Tremolo Key Vel
Granular Tremolo Mod Xfade
Revertion
Shipscape
Rhythmic Instruments (x84)
Abrasive Imminence
Acidification
Arkham
Armored
Attack MOD
Burn
Ceremony
Circuit Point
Concious
Convoy
Covered in Stars
Danger
Dark Approach
Data Sparks
Demagnetisation
Diffused Ascent
Dissolve
Divisibility
Draconian
Driven
Entanglement
Enterprise
Entirety
Excavation and Momentum
Exoneration
Failsafe
Forward Realm
Give Up
Global Function
Gyroscopic Bells
Hatter
Hydraulic Systems
Impossible Task
Infiltration
Infliction
Intercommunications
Intrusions
Iron Fury
Journey
Life on Seasons
Lofi Reversed Loop
LS55
Mercury
Mixtures
Momentum
Nova
Nuclear Winter
On Repeat 1
On Repeat 2
On Repeat 3
On Repeat 4
On Repeat 5
Pandemic
Priori Precision
Priority Alarm
Progression
Race Siberia
Railroad
Rare Control
Recalibration
Recoil MOD
Record Time
Repeater
Restart
Retracing
Retread
Retrograde Amnesia
Rushing
Semiconcious Inertia
Speed Race
Steady and Steady
Synchronize MOD
The Digital Domain
The Edge
Time Waves
Tracing
Transforming Endlessly
Unravelled
Unravelling MOD
Vacant Distraction
Varimentum MOD
Venomous
Ventriloquist
We're Here
Soundscapes & Noise Instruments (x51)
Century 7
A Larger Earthquake
Are There Birds
Belligerence
Blacklight Incandescence
Broken Elements
Broken Theorem
Captain Lost
Century 1
Century 2
Century 3
Century 4
Century 5
Century 6
Collapsation
Creatures
Creeping
Dark Air
Dark Sky
Death Waits
Destination
Devil's Reggae
Digital Rivets
Distant Windstorm
Disturbed Forces
Earthlight
Earthquake
Entangled Hell
Ethereal Meditation
Evil Grunge
Factorial Debut
Forest of the Evil Trees
Forest of the Villainous Flowers
Fragmentary Feedback
Gravel Eater
Graven Hatchway
It Waits Endlessly
Lonesome
Microtransformation
Millennia 1
Modular Madness
Monochromatic
Monstrous
Nightmare Breeze FX
Screeching Junk
The Devil's Triangle
Twilight Forests
Twisted Light
Unannounced
Vast Scrape
WAT Alarm Creature
Synths (x32)
Cold Call
Contour
Darkzone Backward
Darkzone Forward
Draconian Slayer
Excavation and Momentum Arhythmic
Give Up Arhythmic
Growl Machine
Hacker
Hydraulic Systems Arhythmic
Intrusions Arhythmic
Investigation
Kilowatt
Mercury Arhythmic
Metallic Ravens Stab
Metallic Ravens
Midnight Murder
Nova Arhythmic
Progression Arhythmic
Prowler – Monophonic
Prowler
Racetrack
Relative Space
Retread Arhythmic
Retrograde Amnesia Arhythmic
Rich Sweep
Rushing Arhythmic
Science
The Edge Arhythmic
Trash Stab
Triangular
Venomous Arhythmic