The Definitive Cinematic Guitar
Bringing you everything from distorted fight-scene sonics to angelic ambiance, Trailer Guitars II can be used as a conventional guitar instrument or an epic composition tool. Dynamically rich and lovingly recorded on a high-end 8-string electric guitar, if you need amped strings you'll find them here.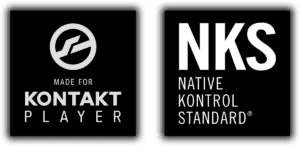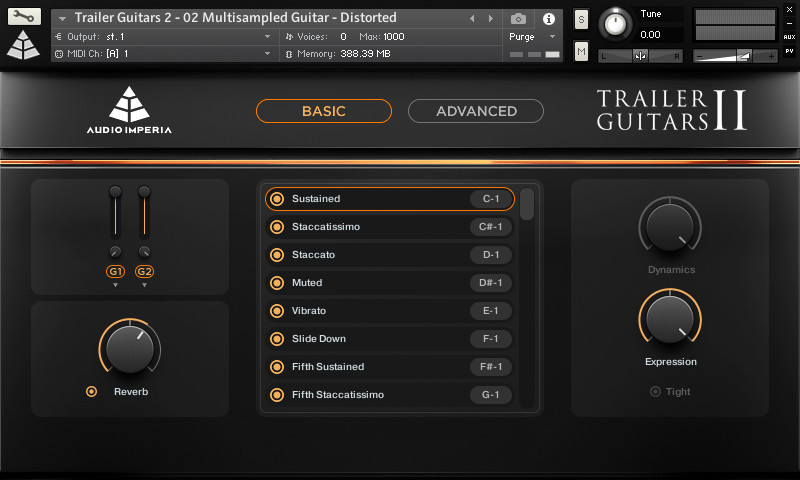 Trailer Guitars II has everything you need: from clean tones, to gritty distortion. Delve into an electrifying range of sonic drones, loops, kits and curated content. With its wide array of electric guitar patches and unforgiving sound design, this library is perfect for big, epic cinematic scores.
Trailer Guitars II is both a fully functional 8-string guitar instrument as well as an elaborate library of designed sounds to be used for not only trailer tracks but also in cases where you need a cinematic guitar sound.
We included a large collection of Simple Loops that contain things like dead notes, muted power chords, open power chords, as well as open and muted single note loops. This makes creating rhythm beds incredibly easy.
Drones, Pulses, and a whole host of hybrid sound design is included as well. Whether your guitar needs are gentle and cinematic in nature or downright brutal and pulsing, Trailer Guitars II will deliver.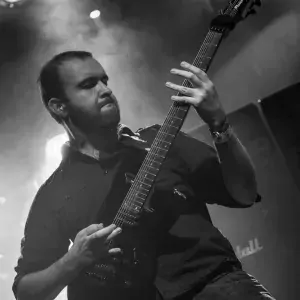 We recorded Trailer Guitars II with Paul Ortiz aka Chimpspanner of ALIBI Music Library, a true guitar genie and one of the prodigies of modern progressive rock and metal guitar playing.
Zero knowledge required
Multisampled, multitracked
The simplest of loops
Our signature Sound Design
Technical perfection
There are many electric guitar libraries on the market, but most of them require at least some basic knowledge of how to play the real deal! Frets, finger positions, etc. We hated that. With Trailer Guitars 2, you instantly get that sound you're craving with zero effort and zero knowledge. It can go from clean and angelic, to distorted and hellish – in a second.

A key feature of Trailer Guitars 2 is the Multisamples. We recorded 13 different articulations in mono, twice. This allows you to pan each one of the recording sets to L and R independently. The result: A breathtaking stereo sound, straight out of the box. You can even control both of the channels volume and pan independently.

We recorded a huge set of "simple loops". These are basic sequences that are very commonly played on backing electric guitars; especially useful for adding some organic movement to your tracks.

In true Audio Imperia style, we provide you with some really unique sound design elements to enhance your experience of the library.

High standards of quality – that is our foundation. All of our sample libraries are meticulously handcrafted, and every single sample is treated like a gem: carefully polished to accentuate their brilliance. This ensures you a buttery-smooth experience when making music. Carefully synced sample-starts and standardized pre-pads mean that your performances will never be out of sync, while providing maximum realism.
KEY FEATURES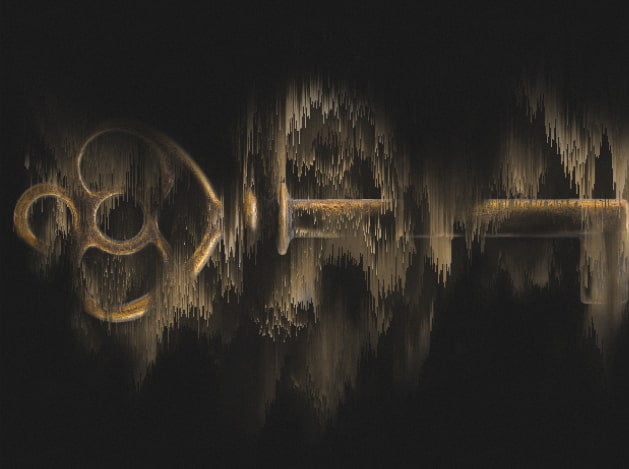 AT A GLANCE
Epic Cinematic Guitars.
Made for the free Kontakt Player, Version 6.3.2 or higher.
NKS compatible.
Multisampled, multitracked.
Distorted fight-scene sonics to angelic ambience.
Loops and Sound Design.
Approximately 5.58 GB installed (NCW format).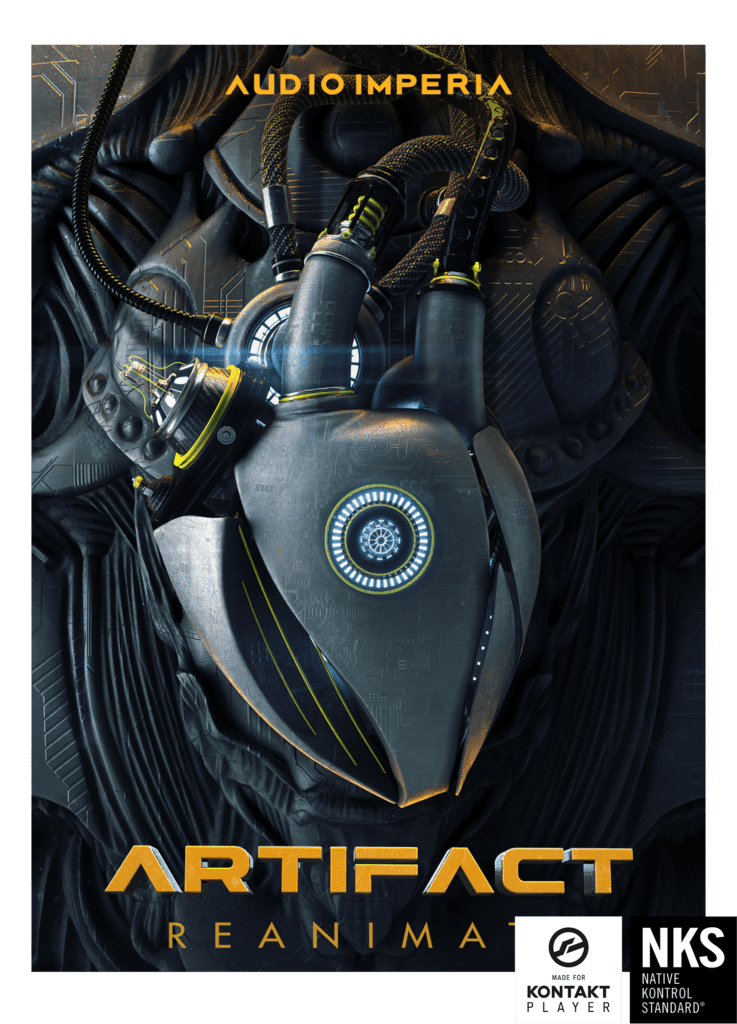 Artifact Reanimate
Modern Trailer Sound Design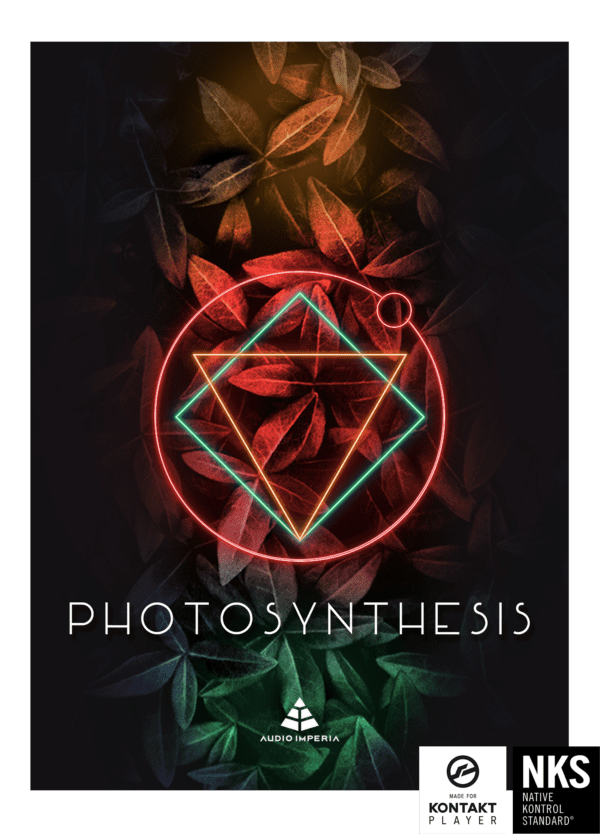 Photosynthesis
Otherworldly Cinematic Sounds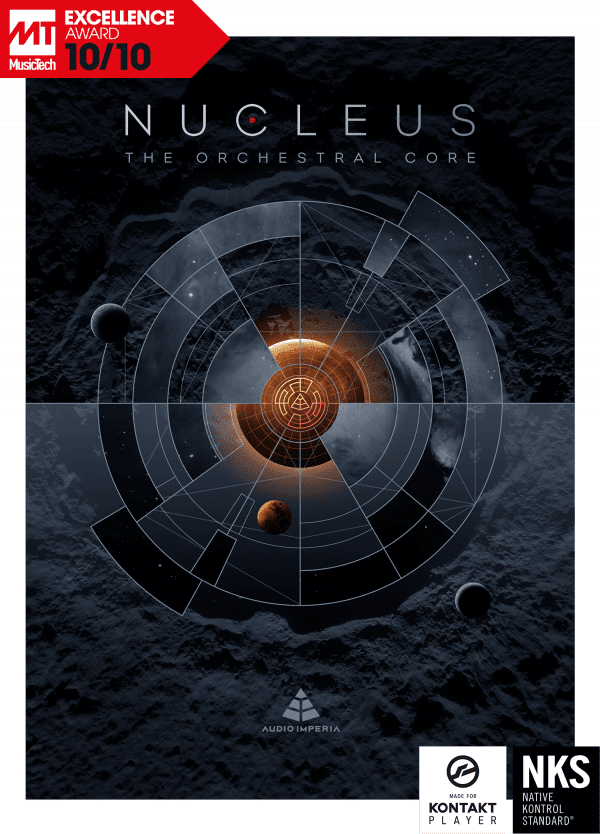 Nucleus
The Orchestral Core
The Full Details: What's Included

Multisampled Guitar – Clean
Sustained
Staccatissimo
Staccato
Muted
Vibrato
Slide Down
Fifth Sustained
Fifth Staccatissimo
Fifth Staccato
Fifth Muted
Dead Note Low
Dead Note High
Hand Mute
Multisampled Guitar – Distorted
Sustained
Staccatissimo
Staccato
Muted
Vibrato
Slide Down
Fifth Sustained
Fifth Staccatissimo
Fifth Staccato
Fifth Muted
Dead Note Low
Dead Note High
Hand Mute
Simple Loops
Heavy – Alternating Loops (x11)
Heavy – Dead Notes Loops (x3)
Heavy – Powerchord Mutes Loops (x15)
Heavy – Powerchord Open Loops (x11)
Heavy – Single Mutes Loops (x20)
Heavy – Single Open Loops (x12)
Soft – Alternating Loops (x11)
Soft – Dead Notes Loops (x3)
Soft – Powerchord Mutes Loops (x15)
Soft – Powerchord Open Loops (x11)
Soft – Single Mutes Loops (x20)
Soft – Single Open Loops (x12)
Crunch Kits / Heavy Kits
Crunch Kits – 3/4 – Loops (x32)
Crunch Kits – 4/4 – Loops (x32)
Heavy Kits – 3/4 – Loops (x49)
Heavy Kits – 4/4 – Loops (x49)
Mid Layers
3/4 Loops (x5)
4/4 Loops (x5)
Drones
Ambient Drones (x10)
Distorted Drones (x10)
Extras By Bryan Leach
Angel Kits – Loops (x40)
Demon Kits – Loops (x40)
Tonal Ambient Textures (x20)
Atonal Ambient Textures (x50)
Hybrid Ambient Textures (x10)
Rise & Hit Texture (x10)
Bowed Guitar (x17)